Mission
We are here to minister to Jesus and each other; to receive His Word and anointing for the preaching of His Gospel to all people; to bring believers into faith based on obedience to His Word; to demonstrate His Kingdom here and to the ends of the earth.
Welcome
Welcome to our New Hope Christian Fellowship website! My name is Rita Kopecki and I have been the Pastor of NHCF since February 10, 2010. We are a non-denominational, Spirit-filled congregation who love to worship God in Spirit and in Truth (Jn.4:23). Our autonomous local leadership follows the Ephesians 4:11-18 pattern of apostles, prophets, evangelists, pastors and teachers.
To see what we believe, please read our by-laws which are posted in the "What We Believe" page.  We meet for services on Sunday mornings and evenings at 10AM and 6PM, respectively, and on Wednesday evenings at 7PM for worship and instruction in the Word. At these meeting times we also provide Nursery care / teaching for children 3 and under. We serve the LORD, the local assembly, the Plano community and beyond in a vibrant prayer ministry which reaches around the world, praying daily for this nation and its leaders, churches and church leaders every day, Monday-Friday from noon to 1PM, and at 6 -7 AM on Tuesday and Friday mornings.
We are a Spirit-filled church which means that we believe in the individual believer's right and privilege to receive the baptism in the Holy Spirit from Jesus and that under His Lordship we worship and minister to the Father and Jesus, and to one another and those He adds to our services. The ministry of the Holy Spirit in the Church is outlined in I Corinthians 12, 13, and 14 and we allow for this in all services and prayer meetings. Many times we have seen people healed and set free from all kinds of bondages at the Communion Table or in just a simple prayer meeting!
We also meet at the Table of the LORD (Communion) weekly, usually on Sunday mornings to celebrate and remember His Exodus in the sharing of the bread and cup. These are times we have experienced Jesus right there with us healing and cleansing and sharing His love with us in an intimate Christ and His Church meeting that can only be experienced in His covenant with us.
The Table of the LORD is open to all believers and we also open our doors daily for all who want to come pray. Please come and meet with Jesus in worship, prayer and receiving of His Word. You will be so glad you did: He is WONDERFUL.
Pastor Rita Kopecki
Pastor of New Hope Christian Fellowship, 2010- present. Pastor Rita was born and raised in Bloomfield, Montana where she was introduced to congregational worship and church life at Red Top Mennonite Church.  In 1978 Jesus called her to Himself in an encounter that transformed her life and relationship with the LORD forever.  Shortly after,  Jesus called her into ministry and sent her to a small Bible school with a huge prophetic mantle, Shiloh Training Institute, in Hamilton, Montana.  After completing Bible school and moving to Texas, Rita ministered in various settings from CFNI's children's ministry to churches, on worship teams, in teaching and preaching, and in helping establish people in prayer, which led at one point to a daily show called "Prayer Time" on KLTJ in Dallas, Texas.  In 1987 she and her family began to attend what became New Hope Christian Fellowship under the pastoral care of Ray Stokes.
Rita is recognized as a gifted Prophet with a rich ministry in the Word of God.  She is an ordained minister of the Gospel and also holds a degree in early childhood education and has served as a teacher and assistant / interim  director at 3 different childcare centers in the Metroplex.  While serving New Hope and other churches on worship teams, pastoral staff, etc. she raised a family of three children. They are currently serving the LORD at New Hope where Pastor Rita is now senior pastor. She has also ministered in worship and prophetically in other countries.
Apostle Ray Stokes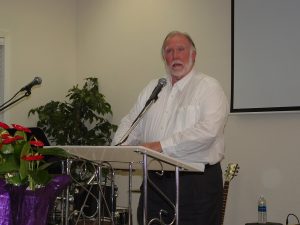 Ray Stokes was the founding pastor – apostle to New Hope Christian Fellowship from 1987 – 1999. He has an international ministry speaking and ministering in churches, schools, and Bible colleges. He has trained lay leaders and pastors on five continents and in twelve nations. He has a strong ministry in the Scriptures balanced by an exciting revelatory ministry with an emphasis on foundations, government, prayer, worship, and gifts of the Spirit. Ray has pioneered three churches and pastored / ministered to pastors for over forty years in California, Nevada, and Texas and throughout many nations.
Ray was born and raised in Dallas, TX and prior to his salvation Ray was a professional musician playing concerts with many of the premier groups of the late 1960's, and he has worked in television, radio, and film as well as having been involved in the local and national political arenas at times.  He has been married for over forty years, has three grown children and seven grandchildren, and currently lives with his wife, Ann, in Sparks, Nevada. He is the apostle to NHCF.